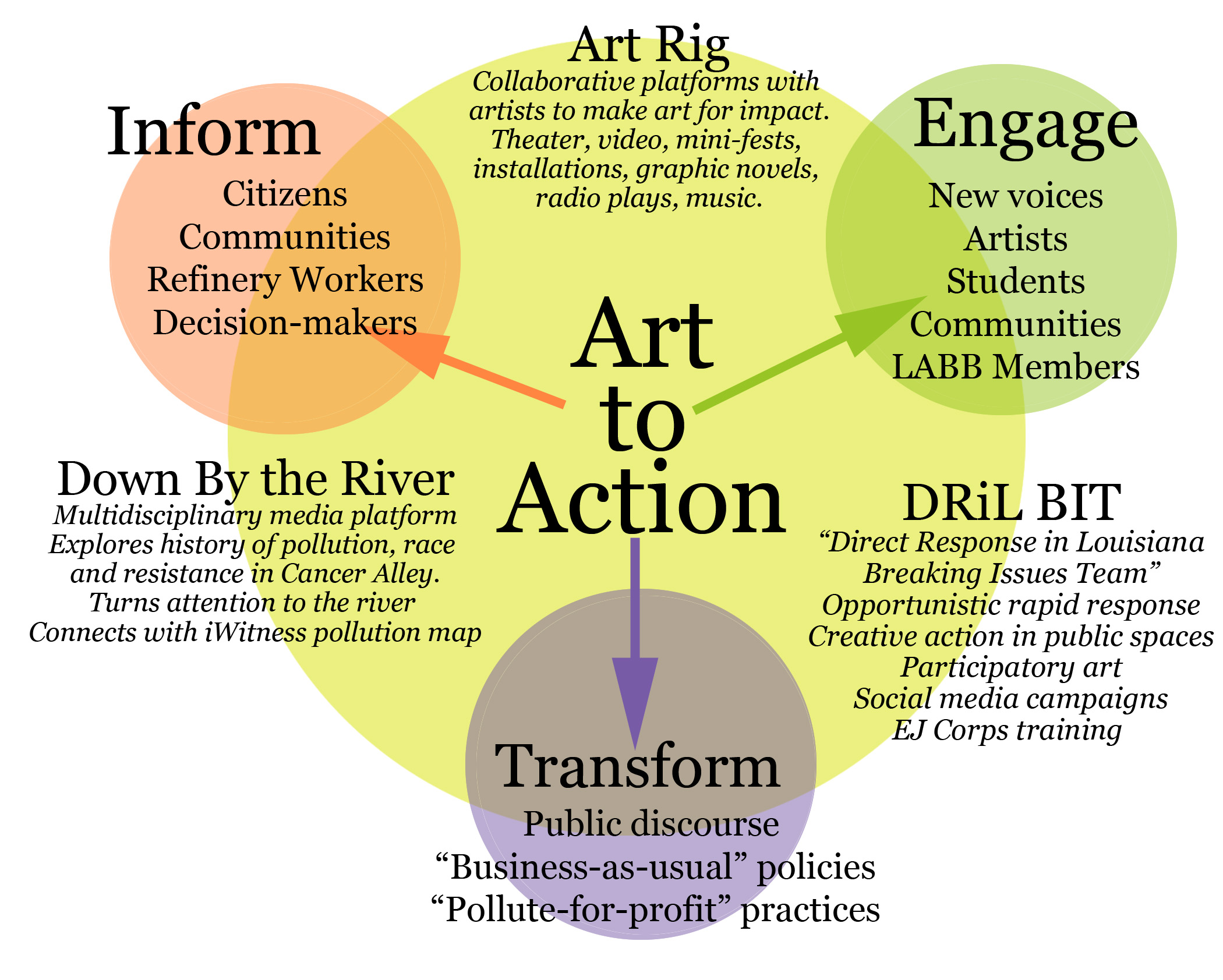 The Art-to-Action Program of the Louisiana Bucket Brigade embraces integrated approaches with diverse community partners to combine creative action, social media, storytelling, theater, video, journalism, visual art, dance, puppetry, music, street performance and interdisciplinary media for social change.
The vision – Inform, engage and transform public dialogue about industrial pollution through art and creative communication in order to catalyze debate, mobilize citizen participation and shift the discourse to focus on health, safety and sustainability from a "business-as-usual" pollution problem.
Down by the River – Integrated multi-disciplinary media platform to reconnect us the history of pollution, race and oppression along Cancer Alley, past and present, and motivate citizen engagement.
DRiL BIT – Opportunistic, artistic, fun and engaging opportunities for citizen expression and participation.
Art Rig – New platforms, collaborations and creatively leveraged resources to encourage artists to explore the relationship between industrial pollution and our communities
Why art in Louisiana?
Cultural expression in Louisiana manifests itself in unique forms: parades, costuming, music, street performance, storytelling. Art-to-Action harnesses that power for environmental justice and social change.
 Art makes people think. Art helps people make connections between their lives and important issues. Art creates "a-ha" moments.
 Art gets people involved. Art creates layers of opportunities for people to participate in grassroots efforts for social change.
Art is influential. Art changes the way people reflect and feel, promoting respect and a sense of possibility.
Art gets attention. In a media-cluttered world, art shifts the discourse and turns the tables.
This site presents my work in environment, arts and activism.
Art-to-Action Program – Program concept and design
Creative Actions – Parades, flash mobs, plays, bike tours and more
Arts Organizing – New Orleans Fringe Fest
International projects – Action research with forest-dependent communities
Publications – Articles, books and handbooks